HELLO AND WELCOME TO YEAR ONE!
Introducing the Year 1 team:
Starlings: Miranda Dinwoodie, Sally Saunders & Esther Wilcox
Nightingales: Om Hodge, Christina Efthymiou
Kingfishers: Emmeline Smith, Manda Davies, Leni Baggley
We are looking forward to a very exciting year in Year 1; on this page you will find some details on upcoming lessons, topics and activities, plus we'll try to keep you updated with what's going on in class!
IMPORTANT INFO:
Please ensure your child has a water bottle and book bag every day so they can be at their best!
Please make sure that your child comes to school dressed in appropriate clothing for whatever weather we are granted that day.
If someone else is picking up your child after school please let the office know about this. If this is going to be a regular occurrence then let the office and your child's class teacher know. They can then note down these adults which will be quicker for you than telling the office each time.
IMPORTANT READING GUIDANCE FOR YEAR ONE
It's really important that children do as much reading as they can! Ideally, they should be changing their book every day to consolidate phonics learning and progress with their decoding and comprehension. Here are 3 top tips...
Check your child's book bag and reading record every day

; there may be important notes or letters and tips or phonics to work on in the reading record.

Read with your child.

Try to spend about 5-10 minutes daily with your child reading to you. They also benefit from being read to, for example a bedtime story.
Make a note in the reading record. This could be a comment or just a tick. Most children will probably be able to finish a book at this level, but a few pages is fine. We'll see how the child is progressing and change their reading book when finished.
Each class has also has a lego challenge tower, which children add a brick to every time they change a book. Every time a child changes a book, the tower grows, and the winning class is announced in Friday assembly! They love it, and it really inspires more reading!
Thanks for your ongoing support!
Water bottles
We have limited access to water fountains in year 1 so everyone needs a water bottle in class. It is fine to leave them in school for the week and just take them home on Fridays. We will rinse out any that are accidentally forgotten. As a healthy eating school, the rule is just water (not squash or juice).
Plants
We would love to spruce up our outdoor area with some new planting. Please let us know if you have any spare plants to donate and/or would like to help with gardening. We would also love any old saucepans or wooden spoons you may have. These will be used to make a music wall.
Show and tell
We love hearing about the children's activities out of school but do not have a formal show and tell session in year 1 because there simply isn't time! The only exception to this is to share a book, trip or other activity that is specifically linked to the topic. Thank you for your support in this.
Volunteers
Year 1 is a huge year for reading and we have been really lucky in past years to have parents come in to read with children to give them extra practice. Please get in touch with your class teacher if you have half an hour a week to help in class. Straight after drop off or at the end of the day is particularly good time, but we can be flexible! You may also be interested in some really high quality, free training which is being run as part of Bristol City Council's reading strategy for Bristol. More details here: https://candobristol.co.uk/projects/reading_in_schools
Tricky word books
Your children have now been given their yellow tricky word books. There is guidance on the front page which explains how to use the books in year 1. These books are for the children to practice their spelling and reading of their tricky words at home so please encourage them to do this as much as possible. Once they have learnt the set that they are on, they will be given a new set to learn. We do not test the children but during the year they are expected to learn to spell all 11 sets of spellings and use these in their writing. We find that being really familiar with them also helps a lot with their reading fluency. We use lots of games and incentives to try and keep it fun!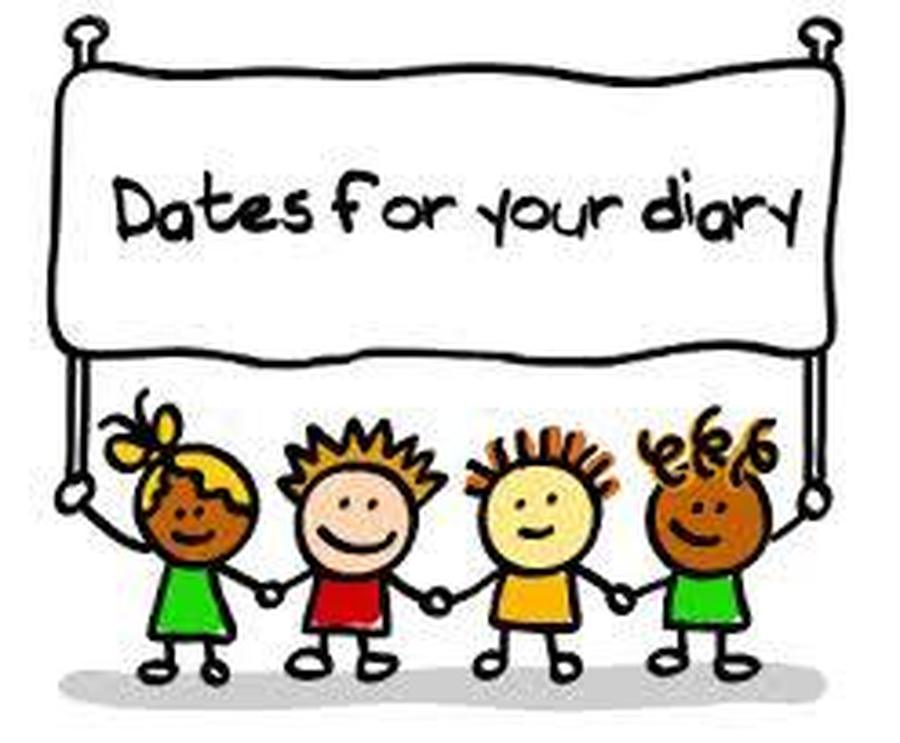 WOW DAYS
Our topic this term is Mrs Armitage. We recently enjoyed a Wow Day in the theme of "Bling My Bike". The children designed and made lots of different gadgets and decorations for a bike, in an attempt to outdo Mrs Armitage. They even had a surprise visit from Mrs Armitage herself!
Below is a picture of Starlings, Kingfishers and Nightingales "blinged" bikes.

Our next Wow Day will be on Week 3 of Term 4 and we will be investigating other types of transport and also be looking into floating and sinking.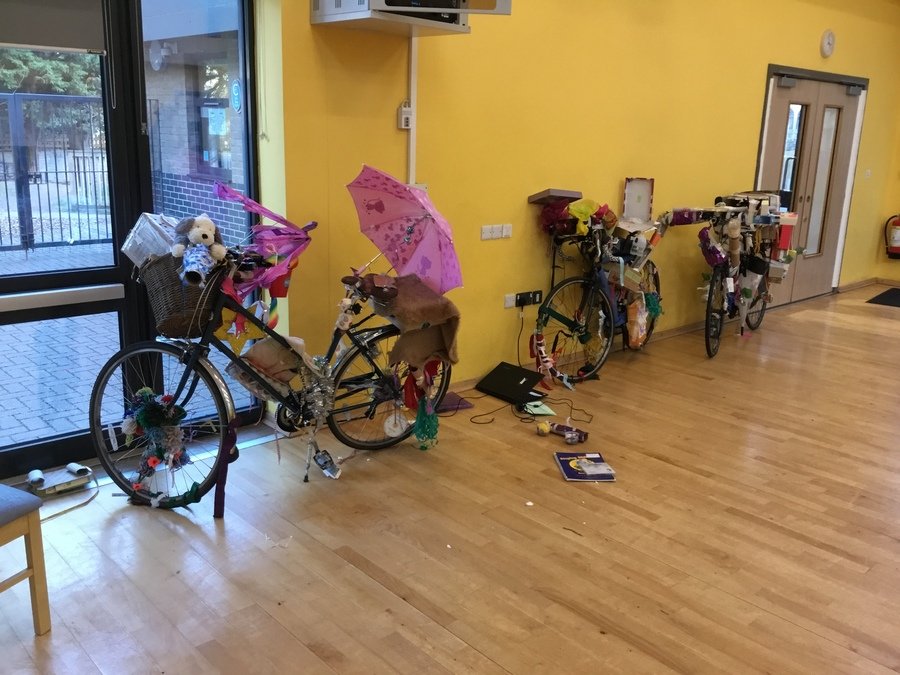 The "BLINGED" bikes from all year 1 classes!
LITERACY & NUMERACY
Term 4
Literacy
We have been continuing to perfect our sentence writing. Which is usually linked in with our topic. The main success criteria for their sentences are full stops, capital letters, finger spaces and sounding out words as best they can. Children should hopefully now know what adjectives are and should be using these when appropriate. We have recently introduced connectives (and, but, because, so...) and have encouraged the children to use these in their writing to make their sentences more exciting.

Numeracy
We have been practicing counting objects carefully. We are also focussing on recognising numbers and practicing writing them carefully (the right way round!). It is really important that the children know their numbers up to 20 before they can progress further with other maths tasks.
This term, we will be :
Counting in 2's, 5's and 10's.
Measurement: Length and Height. The children will learn to measure and begin to
record lengths and heights. They will compare, describe and solve practical problems
for: lengths and heights (for example, long/short, longer/shorter, tall/short, double/half)
Measurement: Weight and Volume.
They will measure and begin to record mass/weight, capacity and volume.
Compare, describe and solve practical problems for mass/weight: [for example, heavy/light, heavier than, lighter than]; capacity and volume [for example, full/empty, more than, less than, half, half full, quarter]
CURRICULUM OVERVIEW
TOPIC: Mrs Armitage
Our topic for Term 4 will be continuing with Mrs Armitage/Vehicles. We will then study The Owl and the Pussycat for an arts topic over the second half of the term.
We will investigate into the forces of pushing and pulling.
The children will design, make and evaluate a small vehicle. We will provide the wheels and doweling but it would be really helpful if you could bring in a small cardboard box (around 20cm x 15cm) for their vehicle "shell".
PE: Games and Activities.
Please ensure your children have white shirt, shorts and appropriate shoes/ trainers for PE. Bring these in at the beginning of the term and they can stay in school during the whole term.
Kingfishers will have P.E on Wednesdays.
Starlings will have P.E on Mondays.
Nightingales will have P.E on Wednesdays.