Home Learning 17.11.17
1. Maths: maths home learning is on the MyMaths website this week.
2. Spellings home learning, based on Friday's lesson, is in homework books and is reproduced below.
3. Literacy: something from the homework wall, reproduced below.
From the desk of Mr Jarman:
Greetings Parents and Carers of Year 6!
It's been another good week in Year 6 and we all really enjoyed the trip to the STEAM museum in Swindon (see photos below.) We've had lots of very positive feedback from children and parents which is fantastic. It really is one of those trip which combines fun and interest with learning extremely effectively. In numeracy we are neck-deep in fractions at the moment which is more fun than it sounds. Honestly.
The weekend weather looks a bit ropey, but today is bright, crisp and cold- everything is for the best in this best of all possible worlds! Which includes me having to clean dog-sick off the kitchen floor at 6 o'clock this morning.
Here's hoping you have good weekend,
Messrs Jarman
Images of the Year 6 visit to the STEAM museum in Swindon.
Below is an extract from this term's text, Goodnight Mr Tom (the novel we are studying in Literacy).
News and dates for your diary:
-On Tuesday 14th November, we will be visiting Swindon Steam Museum as part of our topic learning linked to Wold War II. You should have received a letter about the trip but please contact Mr Jarman (either one!) if you haven't!
Some helpful tips for your evacuee clobber:
Year 6 Topic- Term 1
Out of this World
Jupiter has never looked so delicious!
An amazing piece of homework from Imogen Green in 6A- a dinner plate sized Jupiter biscuit.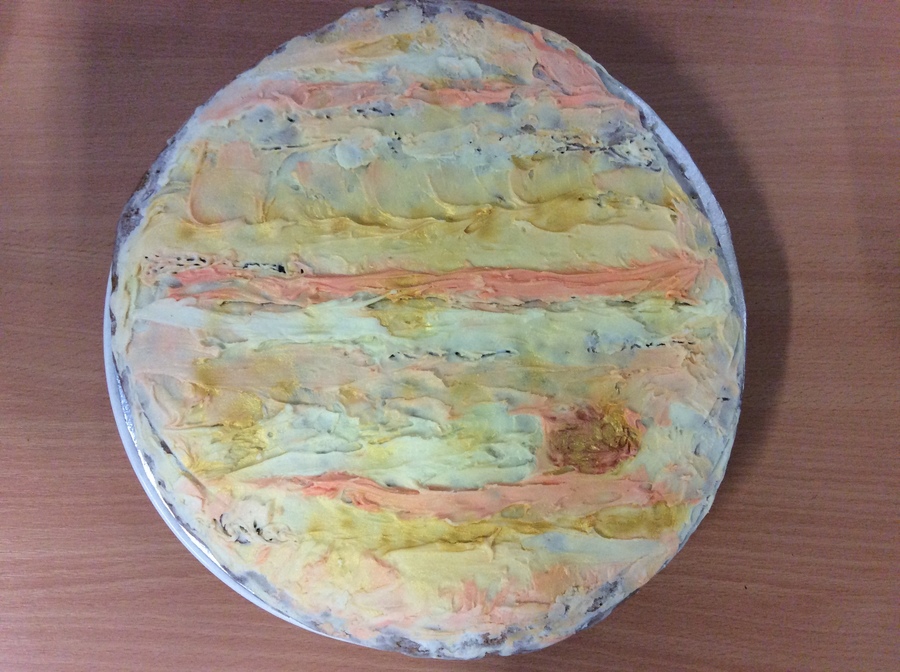 Children of Y6 designing space ships:
As part of our topic work this week, the children designed spaceships capable of carrying people for many years as we search the galaxy for inhabitable planets. They used Maslow's Hierarchy of Needs to decide on what people needed to keep them healthy and happy for that length of time.
Children of Y6 creating planets from paper mache:
Literacy and Numeracy
In this section of our webpage, we will provide regular updates regarding our Numeracy and Literacy content. We will endeavor to supply the information before we teach the content which will enable parents/carers to chat about it with their children if they wish.
Literacy: We are doing a unit of work based on the book Goodnight Mr Tom by Michelle Magorian. The unit will include work on reading comprehension of this fantastic book, as well as many opportunities for practising our writing skills.
Numeracy: For the first weeks of Term 2, we will be looking closely at fractions and decimals. The children will have an opportunity to practice skills learned in the classroom on their MyMaths homework.
use common factors to simplify fractions; use common multiples to express fractions in the same denomination
compare and order fractions, including fractions >1
add and subtract fractions with different denominators and mixed numbers, using the concept of equivalent fractions
multiply simple pairs of proper fractions, writing the answer in its simplest form [for example,

×

=

]
divide proper fractions by whole numbers [for example,

÷ 2 =

]
associate a fraction with division and calculate decimal fraction equivalents [for example, 0.375] for a simple fraction [for example,

]
Updated 3/11/17
Homework
The children will learn a spelling rule each Friday. On the same Friday, they will be given spelling homework which links to the rule they have learnt. You will find the spelling homework below.
Maths homework will be online with my maths. Your child will be given a log on in the next few weeks and set homework which is relevant to what we have been doing in class. Please see us if you have any problems doing homework online.
For literacy, the children will be given a homework bank(please see below) for the first two terms. They should aim to do one homework per week but may choose which one . The homework should be done in their homework books and handed in by Wednesday each week.
Year 6 Spellings Homework
Term 2 in Year 6:
Topic- World War 2
RE- We will be learning about Judaism and the believes that people of the Jewish people adhere to.
PE- 6J- football
6A- American football
PSHE- We have been celebrating diversity within our classes and identifying similarities and differences with our talk partners.
ICT- This term, we will be focusing on our word processing skills and creating a newspaper article relating to WW II.
Updated: 3/11/17