This term's curriculum info is at the bottom of the page.
From the desk of Mr Jarman:
The academic year has finally come to an end and the children are now ready for a good break and then Year 5.
My thanks to you all for your help and support throughout the year and thank you to the parents in 4W who have supported their children through a year that has seen disruption which we would have much rather avoided.
I hope you all have a wonderful summer break and have a chance to relax a little and enjoy your children's company. I have a full program of household tasks and minor repairs to perform, kindly organised by Mrs Jarman, who, knowing that idleness is the surest way to become 'over-relaxed', has promised to do her utmost to ensure this does not come to pass. We are intending to attend the Green Man Festival in the Brecon Beacons, although Mrs J's aversion to camping, festival toilets and country music promise to make this a reasonably challenging weekend.
'Our Inner Space' Topic
Below is some of the fantastic topic home learning done over the holidays. If you haven't completed it yet- do it now!
Our Inner Space
Home Learning
Art Week 2017
Here are a few images of some of this week's Art Week activities. Thanks to Mr Millington for organising a brilliant week, and thanks to the parents who gave their time to come in and help.
Day 2- creating animals for our savannah scenes
Year 4 News Year 4 News Year 4 News
4W Take Part in Athletics Tournament at Redland Green
On a fine, sunny, spring afternoon, 4W walked up to Redland Green School for a Sports Festival. The event was very well organised and administered by Sports Leaders from the school. In groups, 4W spent the afternoon practicing their javelin skills throwing a vortex with their strong arm and weak arm. They experienced the long jump, triple jump, a sprint relay and a long distance fun run. 4W worked brilliantly together and all had a wonderful time.
International Week
As part of our celebration of International Week, 4J and 4W had a chance to make some delicious Chinese food with Jing, one of our SMSAs. The children enjoyed making spring rolls and Chinese dumplings but they enjoyed eating them even more!
Shakespeare in 4J
Parents and carers were treated to a Shakespearian festival of delights on Thursday. The children of 4J had turned 3 of Shakespeare's narratives into abridged versions of the classic plays Macbeth, Julius Caesar and Twelfth Night. Encompassing tragedy, history and comedy, there was something for everyone. The many highlights included a terrifying Anoush Sprague as Lady Macbeth, hilarious turns from Samir Birdi and Muhanad Hussein in Twelfth Night and an anguished performance from Theodore Browne as Cassius. Every single child, however performed fantastically and the children interpreted the stories in their own way. In fact the whole performance was not bard at all!
British Science Week
Our challenge this week was to build a bridge that would hold as much weight as possible, using only paper and sellotape. We discovered that rolling paper into tubes enabled us to make bridges that were really very strong indeed. The winners in 4J were Dashte, Capella, Sophia and Lottie who made a bridge that supported an incredible 11kg!
Anti-Bullying/Positive Relationships
By Lottie and Muhanad, 4J:
First, on Thursday 9th March we had an assembly about relationships with a lady called Louisa. Then in the afternoon we did a workshop about it. We got into groups of 3 or 4 and did freeze-frames of either cyber-bullying, physical bullying or mental bullying. After that, we all had to say 3 nice things to 3 different people. I think we all found it useful and it was a good time to do it all together. It helped us all.
Year 4 children participating in the anti-bullying workshop.
Get a Little Perspective
As part of our new topic 'From a Railway Carriage', we have been using the technique of single point perspective to create fantastic railway pictures. The pictures are not yet finished, but here are a selection of works in progress from 4W:
Mrs Macintosh- Learning Support Assistant
Mrs Lyons- PPA Teacher
Mrs McMahon- PPA Teacher
Home Learning
4J & 4W: Maths and spellings.
Maths is normally on the MyMaths website.
Spellings practice is on the Spellodrome website.
Numeracy and literacy homework are set on alternate weeks. Numeracy will be set via the MyMaths website. Children will be given their login details in the first two weeks of term and a link will be posted here.
Literacy homework is set in a slightly different way. Each time literacy homework is set, your child will need to choose a task from the 'Literacy Wall'. This will be stuck into their homework books, but is reproduced below.
Please note that if you need paper copies of this homework for whatever reason, or if your child needs access to a computer in school to complete their homework, you just need to let us know. Thanks!
Terms 3 and 4 Curriculum Overview
Literacy
This term we will be looking at stories from other cultures. We will look at Christophe's Story by Nicki Cornwell.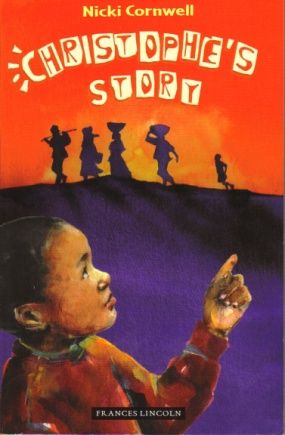 http://nickicornwell.com/ChristophesStory.htm
It features a child who comes to Britain with his family to escape the genocide in Rwanda. We will be using the story to investigate the subject matter of persecution and refugees, as well as exploring narrative techniques for creating convincing characters. We will also be looking at the power of spoken stories as opposed to those written down, a theme which features heavily in the book.
After this we will be moving on to look at information texts. We will be writing a guide to Colston's Primary School as a way of revising the features of an effective information text, before planning and writing a text for ourselves on our own chosen topic.
Grammar
Our grammar objectives this term are:
Revising word classes
Using prepositional phrases
The difference between the plural and possessive -s
Standard English forms for verb inflections
Noun phrases expanded by the addition of modifying adjectives, nouns and preposition phrases
Using appropriate pronouns to aid cohesion and avoid repetition
Spelling
Our spelling objectives this term are:
spelling words with an-ous suffix
words with endings -tion, -sion, -cian
words with the /k/ sound spelt ch
words with the /ʃ/ sound spelt ch
words ending with the /g/ sound spelt –gue and the /k/ sound spelt –que
Maths
This term we will be finishing off our work on shape by looking at using co-ordinates to plot a point on a grid and then translating shapes, then moving on to using Ordnance Survey maps.
We then move back to number for the remainder of the term. We will look at written methods for multiplying larger numbers together and then moving on to dividing numbers by using 'chunking' and the short 'bus-stop' method. We will finish the term by looking at fractions: matching fractions to decimals, finding fractions of amounts and finding equivalent fractions. As always, we will be applying the skills we learn to solve word and 'real-life' problems as often as possible.
Topic
Our topic this term is entitled Coming to Bristol, and is a chance to celebrate our wonderful city and the journey that our families have made to make Bristol their home. We will look at the history of Bristol including such figures as Edward Colston, for whom our school is named and Isambard Kingdom Brunel, and Bristol artists such as Andy Council and Banksy. We will also look at Bristol's role in the development of air travel, and the experience of being a Bristolian during the blitz.
PE
In PE this term we will be learning handball skills and starting some dance. 4W will also be doing tennis each Tuesday morning, with 4J to do the same next term.