Fun and Amazing Learning
At Colston's Primary School, we believe it is vital that high quality learning takes place both in and outside of the classroom. To achieve this, children need to be engaged within the learning process which, in turn, makes learning meaningful and purposeful.
Therefore, on this page, we will endeavour to update you with some of the fun and amazing learning that is taking place at Colston's. We really hope you will enjoy this page as much as the children enjoy their learning!
Week Beginning 6th February 2017
Firstly, we had an amazing co-operative WOW day on Thursday which focused on the value of 'Equity'. The Year 6 children became teachers for the afternoon and went to different classes varying from reception to year 5. It really was lovely watching how responsible the Year 6s were and how seriously they took their role! Individual feedback will be given to children early next term outlining their strengths and areas for development(!)
Week Beginning 30th January 2017
This week, we had a spellbinding Harry Potter evening! The children were first sorted into houses, before practicing spells on each other! Bertie Botts every flavour beans provided the tasty snacks as the children participated in a hotly contesteds quiz in which Slytherin were eventually crowned house champions (after Gryffindor had lost 5 points for visiting Hagrid after hours and being caught by Filch!)
It was a great evening and thanks to Dobby (also know as Mrs Bush) and Madam Pince (also know as Mrs George) for organizing.
Week Beginning 23rd January 2017
Year 1 have also been having lots of fun with their new topic!
Firstly, they decorated their teacher's bike...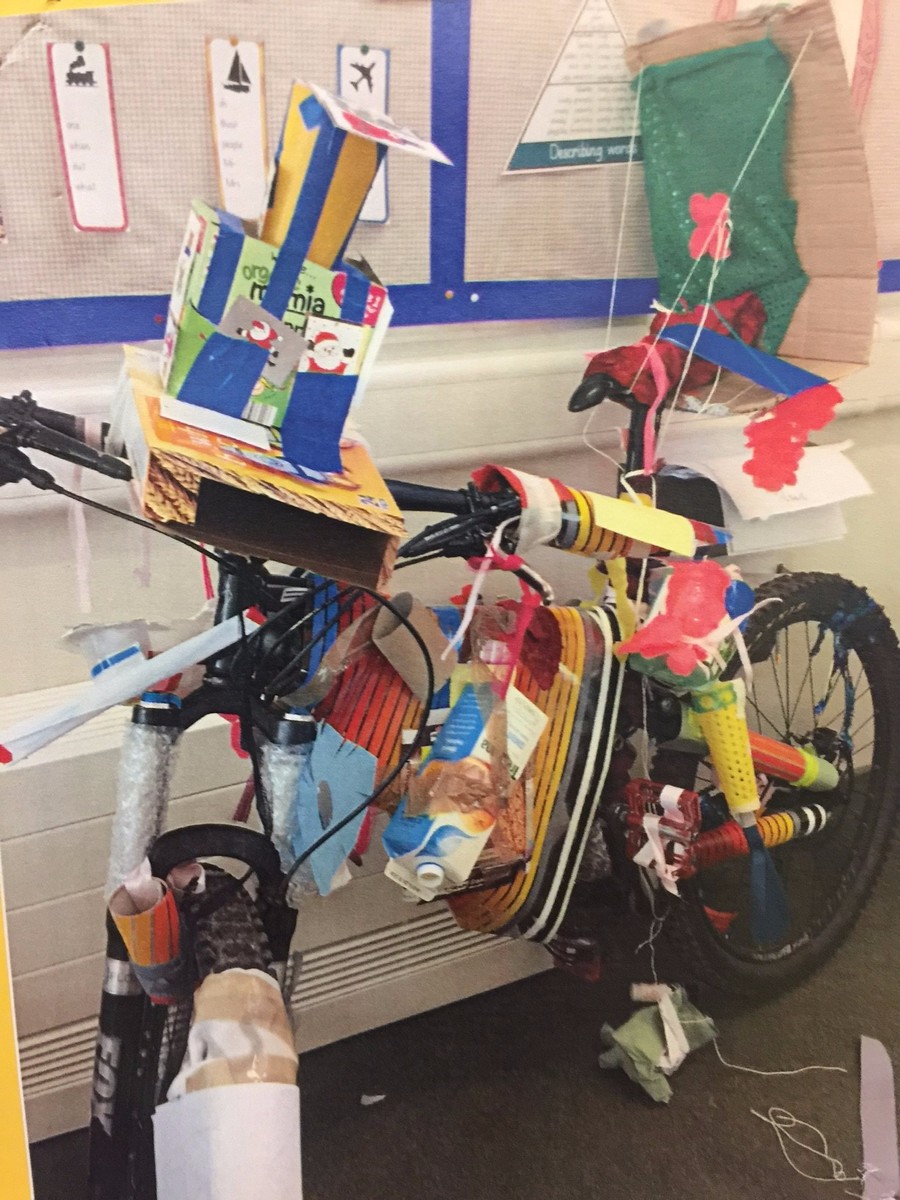 ...before using this experience to produce some high quality writing and designing!
Week Beginning 16th January 2017
This week the reception children have been really engaged in designing their own bike. We have looked at the story Mrs Armitage on Wheels for inspiration. The children have drawn their bike and then written a sentence about it. It has been great to see so many children enthusiastic about writing.
Our children over the last couple of weeks have been on lots of imaginative journeys in many different forms of transport. We have had children going to space in rockets that they have built in our role play areas as well as children going to popular holiday destinations in our plane outside.
I wonder where their imaginations will take them during the rest of this term!
Year 5's Amazing River Designs!
These fantastic models were created entirely from salt-dough and are shown river systems and their features. They show the journey of a river from source to mouth and how they shape the landscape on their way. If you look closely you can see features caused by erosion such as v-shaped valleys and waterfalls. You can also see features caused by deposition such as meanders and deltas. We had great fun making these models. (Nathan)
Week Beginning 9th January 2017
This week, 6JA and 3T joined forces and acquired a reading buddy each. It was lovely to watch the Year 6 children read to the Year 3s and encourage a love of reading from a young age.