Want to support? There are lots of ways you can:
Make a direct donation via Just Giving - coming very soon
Make a donation into the donation boxes at Cotham Grove and Elmgrove Receptions - cash and cheques (made payable to Colston's Primary School) happily accepted
Name a square of the playground scheme - to be launched soon (by half term with a good wind behind us)
Pledge £70 for 70 years (option to pay in installments) - to be launched soon (by half term with a good wind behind us)
Devise your own fundraising activity and go for it! Cake sale? Table top sale? Sponsored run / walk / swim? Make a donation box / bucket with our 70th anniversary logo and off you go …
Support via charitable giving schemes you have access to at your place of work
Help with funding applications
Support PTAF events and shop through Easyfundraising (the PTAF have already donated a generous £5000 towards the playground and have pledged to direct what more they can as the year unfolds)
Attend one of the anniversary events planned for the summer - festival and banquet details tbc
Please contact Kate on colstons70thanniversary@gmail.com for further details / enquiries re any of the above.

70th Anniversary Playground Appeal
£70K for 70 Years
Let's raise it by December 2018!
Match Fund Challenge January to Easter:
We have received a generous match funding pledge of up to £5000 for every pound we raise up to that amount.
If we manage that, we'll have raised HALF the total funds by Easter. We'll be well on the way to making our playground dreams come true ...
See the different ways you you can help us rise to this challenge opposite?
Draft plans by Dragonfly Gardens, Karen Sillence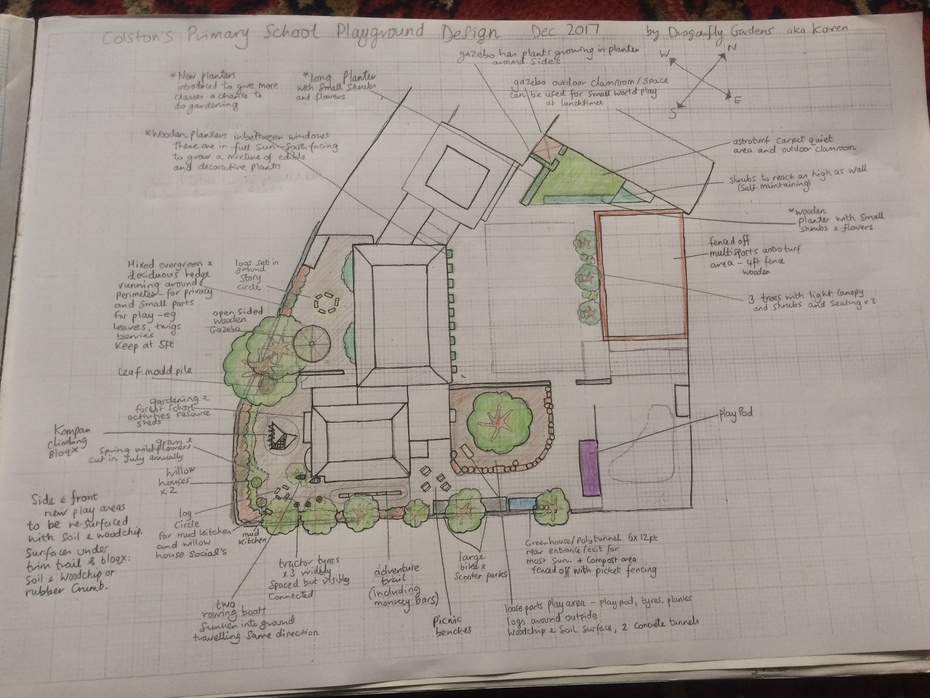 As per consultation outcomes key features include ... forest school areas, story circle, digging and gardening zone, a greenhouse, bike and scooter park, a mud kitchen, a variety of adventure and imaginative play areas with climbing and play equipment to suit all ages and stages, a dedicated fenced off area for multisports and undercover areas for outside learning.
Background
In 2015 the school expanded adding a new infants site with fantastic play area. The original school building and playground are now home to years 2 to 6. And the playground is looking a bit poor and beleaguered in comparison to its beautiful early years counterpart down at the Elmgrove site.
With limited core funding that has to be carefully prioritised, the school has been working on launching a fundraising appeal to realise its playground dreams for the 520 children currently on roll, plus others who visit for different reasons and the many more who will flood through the school gates into the foreseeable future.
An anniversary playground design by our community for our community (see design here)
Further to consultation, a tantalising playground masterplan has been drawn up voluntarily by parent and designer, Karen Sillence of Dragonfly Gardens. Based on sound educational rationale the plans provide children with as much opportunity for natural play in green surrounds as possible. Final touches are being concluded in consultation with staff, children and parents.
Costs and fundraising
It is our 70th anniversary, and if we can raise £70K towards this transformative plan in 2018, we will have covered very nearly, if not all of the project, which overall will probably cost nearer £100,000.
And guess what?
Between school savings, PTAF funds and further donations and pledges from other generous supporters, we have already raised and secured almost HALF the funds, IF, that is, we rise to the following fundraising challenge this term:
We have received a New Year's pledge of match funding for up to £5,000, pound for pound for the amount we raise through this appeal between January and Easter 2018.
So … how can you get involved to make this really happen? Things are being firmed up but here is a taster of what is being put in place …
HOW TO SUPPORT the 70th anniversary playground appeal
Attend this term's PTAF events

Organise a fundraising activity yourself or with a group of friends - there are rumours of a staff sponsored run ... anything along those lines ... Get your thinking caps on for fun ways to rise to this fundraising challenge!


Look out for playground donation boxes appearing in school soon - designed and decorated by the children

Encourage your friends and wider family to support our Appeal - share this Appeal page on social media
Watch out for further details about how to support via the following projects in development - keep an eye on school newsletters, emails and the website for further details and/or register your interest by contacting Kate on colstons70thanniversary@gmail.com:
Pledge £70 towards £70,000 with the option to pay instalments over a period of time up to one year - further information on how to do this to follow

Name a square of the playground: buy a square and have your contribution immortalised by your name/name of your choice appearing on a wall/space that will be incorporated into the final playground design
Donation options will be added to the parentpay system in due course
Get involved with and/or attend one of the special playground appeal fundraising events
Special anniversary banquet hosted by parent restaurant chefs later this year - tbc

Summer anniversary festival - organised by PTAF and Co-op Forum working group made up of parents, staff, pupils and the local community
Help with trusts and foundations and community fund applications
We have a team of volunteers primed to research and apply for funds from organisations who may be interested in supporting our project. Can you help with this?
Help school involve local business / secure some corporate sponsorship
We will be reaching out to local businesses to support our appeal - do you have access to match funding / community support schemes via your work?
Help set up / contribute to an eventual crowdfunding campaign in the summer
Would you be interested in helping out with this?
Just spread the word!
This is not an exhaustive list, just the beginning. The Playground Appeal group made up of school staff, parents and children will be co-ordinating the above activities. And readily accept further ideas from enthused members of our community including the local community and alumni.
For further details and/or to get involved please contact Kate on